MED-1 Breton Occupational Health Services in Grand Rapids, MI
Our MED-1 clinic on Breton offers full-service occupational medicine, including; injury care, drug tests and screenings, work-related physicals, physical therapy, and x-ray and labs. The clinic offers patient exam rooms, comprehensive lab and testing areas, and an extensive physical therapy space. MED-1 is conveniently located to businesses in West Michigan.

Services Provided:
Workplace Injury

Physical Exams

Testings & Screening

Physical Therapy

Specialty Exams

Onsite Services

Medical Review Officer (MRO)

MED-1 is Physician-based, specializing in occupational healthcare and focusing on superior customer service, ensuring your employees spend less time waiting and more time on the job. We take pride in delivering the highest quality occupational health services that in turn results in the most cost-effective care.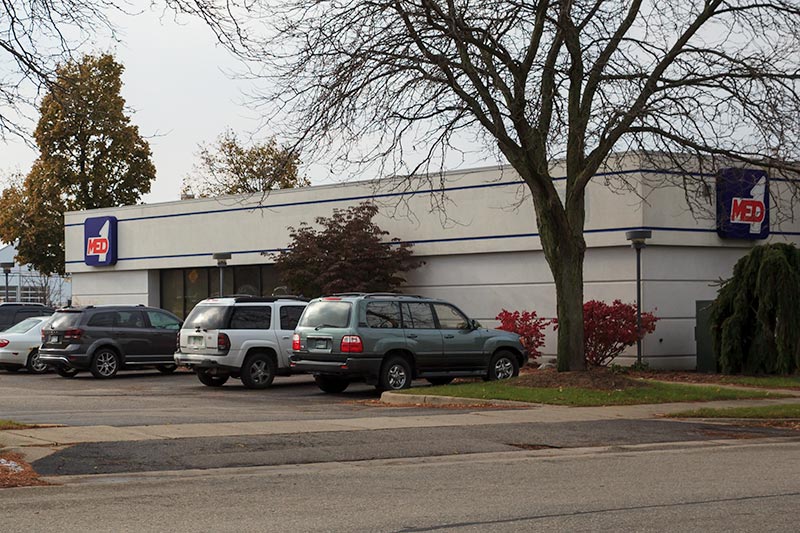 Location
MED-1 Breton
4433 Breton Rd SE
Kentwood, MI 49508
Driving Directions
Phone: (616) 281-6000
Fax: (616) 281-6038
Hours of Service
Injury Care, Drug Screens
and Physical Exams
Mon – Fri 7:00 am – 6:00 pm
Please arrive by 5pm for physical exams
Saturday Closed
Rechecks by Appointment
MED-1 Leonard
1140 Monroe Ave NW
Suite 150
Grand Rapids, MI 49503
Phone: (616) 459-6331
Fax: (616) 459-2569
MED-1 Holland
383 Garden Ave
Holland, MI 49424
Phone: (616) 494-8271
Fax: (616) 494-8273
MED-1 Leonard offers 24/7/365 Injury Care